For All Ages
1st night seder in Manhattan
Wednesday, 8 April 2020
For 20s/30s
2nd night seder in Manhattan
Thursday, 9 April 2020
Tell me about the two seders: When? Where? What?
Outline of the evening
Rabbi Judith Hauptman, founder of Ohel Ayalah, and Cantorial Soloist Josh Gorfinkle, will lead the Manhattan seders. They will take place in the Prince George Ballroom, a magnificent event space at 15 E. East 27th Street. Photos above and to the right. These are egalitarian, community seders. People come by themselves and meet others at their table or come with friends and (also) meet others at their table.
Sitting around a spread of veggies, baba ganouch, and other snacks, we will delve this year, as we have done in the past, into A Different Night, The Family Participation Haggadah. You are welcome to take it home when the seder is over. We will read (sometimes in Hebrew and sometimes in English), sing, discuss, and debate. And also schmooze. After dipping into the haggadah (pun intended!) for about two hours, we will be served dinner buffet style (menu below). And after that, Grace, Miriam's Cup, Hallel, and a lot of singing. The entire event, from beginning to end, will take about 3 1/2 hours.
First Night Seder for All Ages
The First Night Seder For All Ages, on Wednesday April 8th, will begin at 6:30 pm and end about 10 pm. Doors open at 6 pm. Please arrive before 6:30 to find your seat and get settled. This is a large seder of over 200 people. Some show up at this seder by themselves, some with a family member, and some with a friend. If you wish, you can choose to sit at a table for singles.
Second Night Seder for 20s/30s
The Second Night Seder For 20s/30s, on Thursday April 9th, will begin at 6:00 pm with a wine-tasting. That is the first opportunity to meet others. Seder itself starts at 6:30 pm and ends about 10:00 p.m. At several points during the seder, half of each table is asked to get up and move to the next table. That is another way to meet people. Rabbi Moishe Steigmann will again co-lead the seder with Rabbi Judith Hauptman and Cantorial Soloist Josh Gorfinkle. Rabbi Moishe asks questions (usually easy . . .) and gives a raffle ticket to anyone who gives a good answer. Right after the full seder meal (menu below), there is wine raffle. Sound like fun? Yes. Sound like a seder? Also yes.
Location
Both seders will be held at the Prince George Ballroom, 15 E 27th Street (Manhattan, New York City).
Seder Seating Assignments
Coming with friends or family? You will all sit at the same table. Coming by yourself? We will do our best to match you with like-minded people. Since we prepare seating charts about a week before the first seder, best to sign up early.
Can you explain the seder pricing?
In order to cover our mounting costs, we are suggesting two alternative prices. The higher price almost covers the true cost of running these seders–which includes venue rental, the seder meal, the wine, the haggadah, waitstaff, venue insurance, security guards, and so on. The second is a discounted price for those who cannot pay the full price. We are asking you to pick the price that is right for you. FYI, I draw no salary for either leading the seders or running Ohel Ayalah.
For First and Second Night Seders in Manhattan:
Full price: $85 per person
Discounted price: $60 per person
Thursday night only, Student price: $45 per person
We are able to offer the discounted and student prices (for those who need them) because we have many generous donors who help us meet our expenses.
To see a list of our seder donors, click here.
March 11: Both Ohel Ayalah seders are CANCELLED
March 11 Update, 3 pm:: Both Ohel Ayalah seders are cancelled. We are not able to provide you with a safe environment. In the coming weeks, we will post online resources that will assist you in planning and leading your own seder
———————————————————————————————————————————————————————-
Make a reservation (by paying!)
PLEASE NOTE: The only way to reserve a seat for yourself is to pay. Click on the link for the seder you have chosen, answer a few (easy) questions, pay, and you will get a confirmation by e/m. No need to bring it with you. We will have a list of all those who registered. If you don't receive a confirmation, or if you need assistance, please e-mail me on the Contact Us page.
To get reminders of future events, join the Ohel Ayalah e/m list. Fill in your e/m address in the box on upper right column.
Reminders?
YOU MUST SHOW A CURRENT PHOTO I.D. TO BE ADMITTED!
Payment & Reservation FAQ's
Can I pay by credit card if I don't have a Paypal account?
Yes, Paypal accepts cards even from those without accounts.
Can I pay by check?
Yes, but we must receive the check no later than Wed April 1. Please make the check out to Ohel Ayalah and mail to:
Rabbi Judith Hauptman, P.O.B. 654 New York, NY 10159. We will not accept any checks after Wednesday April 1, EVEN IF MAILED EARLIER. After that date, your only options are to pay on Paypal or show up as a walk-in (see below). If your check arrives AFTER seder registration closes, and it is likely to close about 5 days before Passover, it will be returned to you. So if you plan to pay by check, you need to mail it as soon as possible. Put your e/m address on your check so I can acknowledge receipt. ALSO: go to seder reservation form and fill it out but don't proceed to payment page. I need your "information" to seat you properly!!
Can I come to the seder as a walk-in?
Yes, a number of people are admitted at the door. We will set an entire table for walk-ins (both first and second nights), which means that 10 people will be admitted at the door. Also, each year there are people with reservations who decide, at the last minute, not to show up. If we find that there are empty seats about 20 min. into the seder, we will accept additional walk-ins at that time. There will be no waitlist. On the seder night, full price will be $90 p/p and discounted price will be $70 p/p. We do NOT take credit cards at the door. We do accept cash or a check (made out to Ohel Ayalah).
Ohel Ayalah is a religious corporation. Payment for the seder is for a "service" and is NOT, therefore, tax deductible.
Testimonials from past Ohel Ayalah Seders
If it weren't for the Ohel Ayalah seders, I probably wouldn't go to any. The rest are just too expensive and not as inviting to new people who don't know anyone there and are attending alone. Thank you so much for this opportunity!
We feel that it is similar to attending a family seder which we had in our home for many years while our children were growing up. There is a feeling of warmth and homeyness and we thank the organizers for creating an environment that encourages this. We don't feel judged, only welcomed.
Appreciated that you had it for New Yorkers without a place to go
I liked the joyous spirit, the high level of participation and the singing.
The rabbi's energy and enthusiasm was inspiring. The Canter's powerful voice regally initiated the holiday and melodically captivated the participants during the dinner. Though there were many people it felt like a very intimate family seder. It was well organized and the food was fantastic. The seder book was interesting and a nice surprise. The seating arrangement were perfect. I just loved the experience and look forward to next year.
Had never been to a community seder before. Very lovely. Thanks!!
I must thank you so much for the wonderful seder we had with you this past first night of Passover. A remarkable thing happened. It was the first time my 10 year old daughter attended a seder of this kind (and me for that matter!) that delved so deeply. I personally came from a very superficial jewish family so we never read for more than 15 minutes.
What is most impressive – and fun! – for me is the overall ruach that you create in the way you conduct the seder along with Cantor Josh. There's a great feeling of community in the room . . .
Keep on doing what you're doing – you've got it right.
I loved how warm and friendly the evening was. I was really skeptical because I attended alone but there were some really friendly people at my table and the staff was also very friendly.
I loved that the seder was explanatory and we all got to participate. I love that it was designed so that we would meet as many new people as possible. I love that we got to have a seder for our own age group (20s and 30s). I love the price! I love that we got to keep the haggadahs.
It's a great sense of community, very welcoming, fun, and enjoyable. The rabbi is great.
I liked meeting new people and having discussions at the table and the haggadah. I really like the wine tasting.
The festive/entertaining elements like noisemakers and the interesting Haggadot really added a lot. The food and the people were great, but the best element was rotating seats – I came to meet new people and that really helped
Great to sing songs that I haven't sung since I was a child. The food was surprisingly good too.
It was truly lovely. I was in from out of town and felt so welcomed.
I am grateful to be able to attend a seder like this as I do not have a family seder to go to.
I just want to thank you again for providing a home for my little family for the first night seder. There are so few non Orthodox public seders for the first night. It is really greatly appreciated. Thanks again for all your hard work!
With the experience of the first Seder, I was equipped to lead the second night in a way that encouraged participation from everyone, particularly the kids. It was great being at a Seder where we weren't "slaves" to the same old rote words while still maintaining the order and all the required sections.
The rabbi runs a wonderful warm seder and makes everyone feel welcome no matter what their age.
The seder at Ohel Ayalah was one of the most meaningful and entertaining seders that I have ever attended. I really enjoyed the friendly and relaxed atmosphere, singing, and interactive discussion. I would definitely come back next year and recommend to my friends!
I loved the discussion around the table—we began by being strangers and ended by being friends.
Very friendly and inviting. Good food and I enjoyed the prayers and singing. I also like the way the tables were set. It was very easy to talk to people. I loved having instruments @ the table so we could really get into the spirit.
I liked the happy and community feelings.
I liked that everyone there was in or around my age group. I liked that they tried to get people to get to know each other. I liked that I had a place to go for the 2nd seder when I otherwise wouldn't have. Also, the price was great.
It was fantastic. I particularly enjoyed the interactive discussion. I've never really participated in anything like this before. The time flew by and I learned a lot about both Passover as well as the people at my table. It was a perfect combination of learning/religion and socializing. The table rotation was great—I really had the chance to meet a lot of new and interesting people. I also very much enjoyed the musical instruments. Finally, I really appreciated the fact that everything was so efficient and well organized
As a person who is in the process of converting to Judaism, I was able to understand, have fun, and meet new people.
Yes, being new in the city, it was very comforting to be in a familiar setting, even with strangers—it felt like family.
Frequently Asked Questions
What language is used?
If you don't read Hebrew, not a problem. The haggadah includes the Hebrew text and English translation, and for many segments — songs in particular — it also provides transliteration of the Hebrew. The haggadah is yours to take home.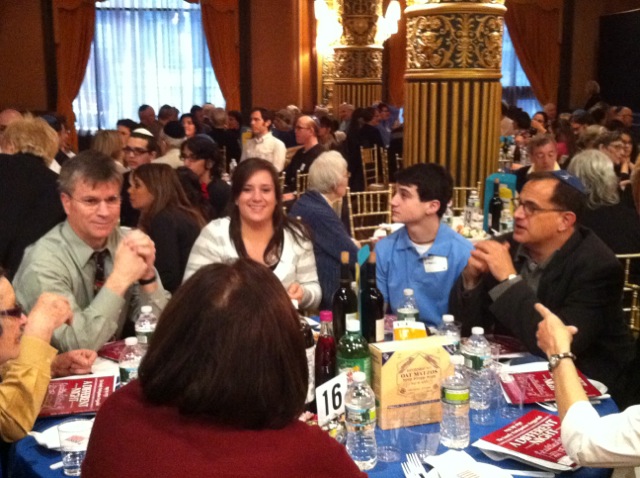 Is this Seder for me?
The first night Seder (in Manhattan) is for all ages. This means that you fit the age parameters(!).
The second night Seder in Manhattan is reaching out to 20s and 30s only.
What is the menu?
The meal will be ample and traditional, but simple rather than gourmet. Seder Menu 2020: gefilte fish, chicken, roasted potatoes, Iraqi sabzi, grilled vegetables, tossed salad. And matzo balls in vegetarian gravy (not in soup!). Carbonated beverage. A fancy cookie dessert follows. Matzah unlimited. Wine — the traditional four cups. Many snacks on the table during first part of seder, such as baba ganouch.
All food is kosher for Passover, catered by Beth Torah caterers of Forest Hills, Queens. Because of kashrut policies, you may NOT bring any food or drink with you to the seder.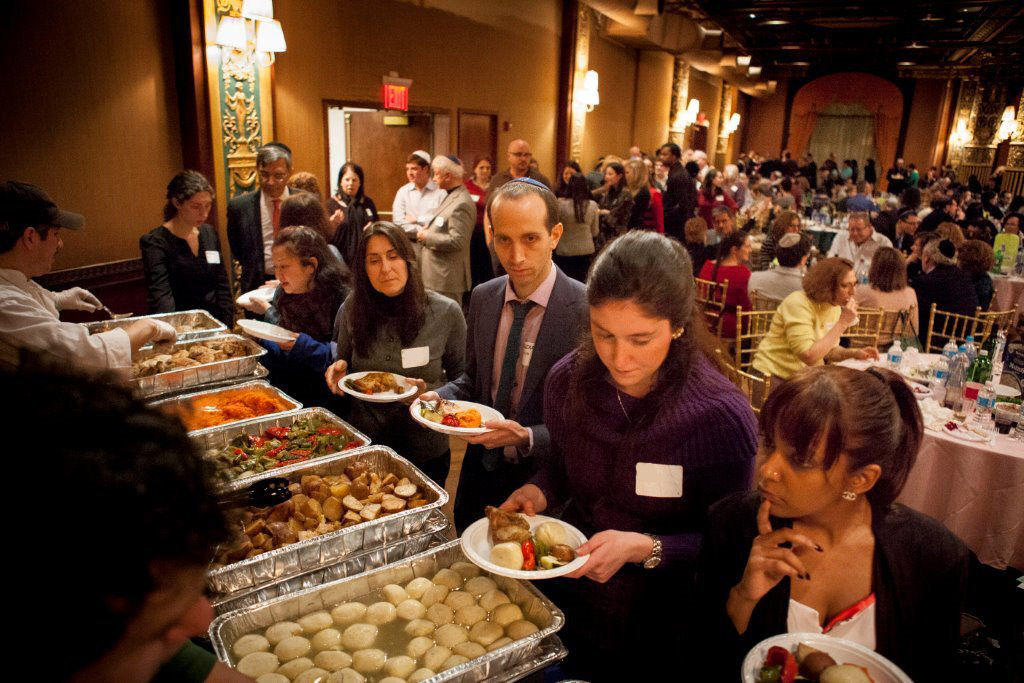 Who can I ask if I have more questions?
Can you direct me to other NYC Passover seders?
Want to help?
If you wish to make a donation, you may do so by visiting the Donate page.
Join our email list
Get notified as registration forms become available for seders and high holiday services.
Want to help?
Our services are free and walk-in. If you can help Ohel Ayalah pay its many bills, you may do so via Paypal.